Noise is of the most frequent complaints hotel guests have about their stay. Whether it's noise from the next room, loud thuds from the floor above, or cleaning staff in the morning, hotels are lively places with many people talking and moving around all day long. If your guests have been complaining about the noise coming to their room, it's time you consider effective ways to reduce it, or else you may drive away potential customers. Here's how soundproofing your hotel can increase your business:
A superior experience for the guests
Loud noises disturbing them at all times can ruin your guests' comfort and make it difficult to get some peaceful sleep. People traveling from different areas are looking for a pleasant environment at your hotel. As their host, you must ensure that the disturbing noise outside doesn't penetrate their rooms.
Soundproofing hotel room ceilings, walls, and the floor is an effective way to ensure all the loud noise gets absorbed in the soundproofing material, creating the perfect indoor environment for your guests. This enhances the customer experience leading to more satisfied customers.
Reduced energy costs
Research shows that a significant amount of noise travels to hotel rooms through window openings. Laminating windows in your hotel room are crucial in ensuring noise reduction. But processes like window glazing have more benefits than noise-canceling; it helps in thermal insulation, ensuring no heat travels in or out of your hotel rooms.
This leads to energy conservation, saving your costs, and adding to your revenue. Hence, soundproofing your hotel rooms is a one-time investment that can offer long-term returns.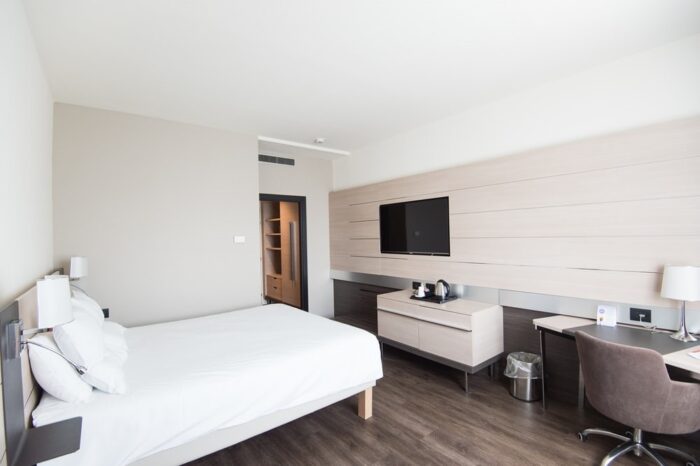 Better reputation
Any business needs a good standing in the industry to be successful. If your peers respect you for your commitment to excellence and your guests swear by your dedication to the highest quality services, you can rest assured that your hotel will do wonders in the long run.
Soundproofing is one of the many testaments of detail to the attention you can provide to your customers as an example of your world-class services. Once people start recognizing you for your efforts, you can expect more business and expansion.
Soundproof your hotel rooms today
At Hush City Soundproofing, we provide outstanding soundproofing installation services at unmatched rates. Get your roofs, walls, ceilings, and floors soundproofed today! Connect with our friendly customer service for more information.